Are you planning to start a food delivery business without an app? Then you must take your time and read this detailed guide of your well known competitor "DoorDash". A well known food delivery company in the US with 55% of market share and it also offers their services in Canada, Australia and Melbourne.
For sure this guide will help to structure your food delivery app/business.
DoorDash History
In 2018 DoorDash entered the food delivery business by collaborating with walmart.
In 2019 DoorDash build relationship with eCommerce firm mercato to aid in business growth.
In 2020, December Doordash went public and the day of the listing, its shares increased by 80%. Prior to the IPO in 2020, it was valued at 72 billion dollars, and it is now worth 55 billion dollars.
In the US, Doordash has overtaken other online meal delivery services in terms of market share and income per year. It has enrolled 390000 eateries, 20 million customers, 5 million subscriptions, and an astounding 45 percent market share. The amount of revenue exceeded $2.9 billion. The statistics speaks for itself when it comes to DoosDash's current scorching success.
This brand is a great example of an on-demand service-based business. We'll be looking at the DoorDash company strategy, operation, and revenue stream today. But first, let's have a look at the corporate profile.
DoorDash Company Details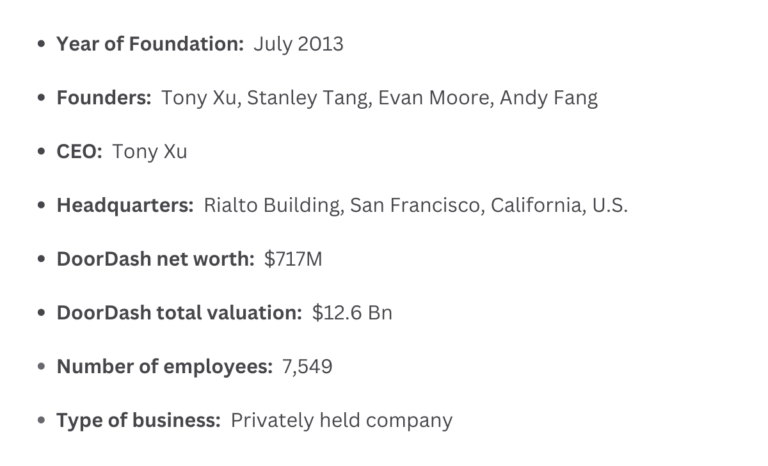 DoorDash Business Model
The three tiers of DoorDash's business structure are Users, Restaurants, and delivery personnel, or "Dashers." Below is a detailed explanation of these tiers:
Users: Customers who order meals using the DoorDash app are called users. These encompass all demographic groups, such as employees who desire to cut down on mealtimes, corporate workers, and college students. Even the typical non-workers who desire a break from routine cooking are included.
Restaurants: Different restaurants have different motivations for partnering with Doordash. For example, eateries without seating can expand their business, eateries without home delivery can add a new service through partnership, and for the majority of them, the reach and brand recognition that Doordash provides through its platform are the main drivers.
Delivery person also called as dashers: People who are searching for a job with flexible hours and a respectable tip income (on average, a "Dasher" makes 600$ in tips per year) choose this value-adding employment. The only prerequisite is that they must be driving their cars.
How Does DoorDash Works
DoorDash works like any other top food delivery app services like UberEats. The basic work is the same but some apps do something different to attract customers.
First Customer Place Order
Customers who have registered with the DoorDash food delivery app will order their preferred food item from the restaurant of their choosing that is featured on the app. The ability to pick from a wide range of restaurants and cuisines with only a few clicks on the app makes it a virtual haven for foodies.
Additionally, with the use of clever AI, user suggestions have improved and become less invasive for consumers. As a result, consumers may quickly place their orders and select from all the possibilities.
Item Bill
The user's order must now be paid for in the next step. The costs are determined by the order, the distance between the restaurant and the delivery location, and any additional taxes. When the user makes the payment, the order is processed, and the restaurant begins preparing and packing the food.
All of the major credit and debit cards, including Visa, MasterCard, Discover, and American Express, as well as in-app wallet and Amazon Payments are among the many payment methods that DoorDash provides for its app customers.
Order Shipped
The meal is sent from the restaurant to be delivered to the client once it has been made and packaged. The delivery people are known as dashers; hence, these dashers will pick up the product and adhere to the delivery instructions and route using their dasher app. Any available dasher who is near to the restaurant is given this responsibility.
With the help of the customer app, consumers may monitor the location and status of their orders. On a map, they may see the location of their meal and the projected travel time to the consumer.
Deliveries & Reviews
The dasher will deliver the food box to the customer's door by using the map on their app. Once the buyer accepts the package, they can start eating. One last element is that customers may rank and comment on the meal and delivery service.
The user may rate and provide insightful remarks to let the restaurant or dasher know what they did well or poorly. Although ordering may be done through the DoorDash website, using the smartphone app is more practical.
Food Delivery App Competitor
One of the most well-known companies in the market is UberEats. UberEats is DoorDash's most formidable rival, even if it hasn't been successful in every nation it has entered. For 2.4 billion dollars, UberEats also acquired Postmates, another rival of DoorDash.
Owned by JustEat is GrubHub. In 2015, GrubHub had the largest market share, but since then, its share has been steadily declining. The advent of rivals like Doordash is one of the main causes. It goes without saying that it still poses a danger to DoorDash.
Conclusion
We hope that this post has provided you with answers to your questions about DoorDash, including how it operates and how it makes money.
It uses a variety of income streams to make money, including commissions, subscription services, and delivery fees. Grubhub and UberEats are two major competitors to DoorDash in the U.S. online meal delivery sector at the moment.
Working with knowledgeable professionals is essential if you want to create a food delivery software similar to DoorDash.